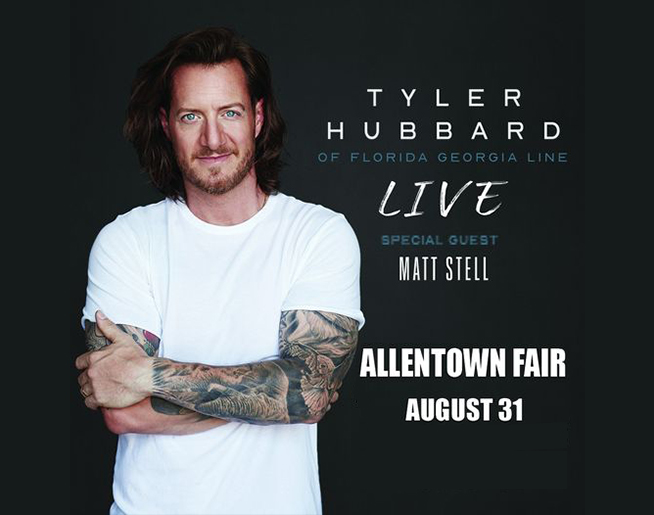 Tyler Hubbard of Florida Georgia Line with special guest Matt Stell are coming to the Service Electric Cable TV, Inc. Stage at The Great Allentown Fair on Thursday, August 31!
Tickets go on sale Friday, February 3 at 10a
Tyler Hubbard's face and name are very familiar – and his voice is a staple on country music radio. He's accumulated 20 No. 1 hits with songs now woven into the fabric of music culture. However, he's never made a project bearing solely his name – telling his story – until now.
Hubbard cruised into country music a decade ago as the lead singer of multi-platinum selling duo Florida Georgia Line. The pair had hits including "Cruise," "H.O.L.Y." and "Meant To Be." Hubbard was a 24-year-old when FGL took off. Now, he's a married father of three. "I do hope that the FGL fans will hear this and know I'm still there for them," Hubbard says. While there's still plenty of fun and lighthearted music on Hubbard's debut album, there's also a depth that comes with growing up. His debut solo single "5 Foot 9," written by Hubbard, Jaren Johnston and Chase McGill, became Hubbard's 20th No. 1 hit. Hubbard's second single, "Dancin' In The Country," is out now
WCTO – Tyler Hubbard Week Jan-Feb2023 RULES