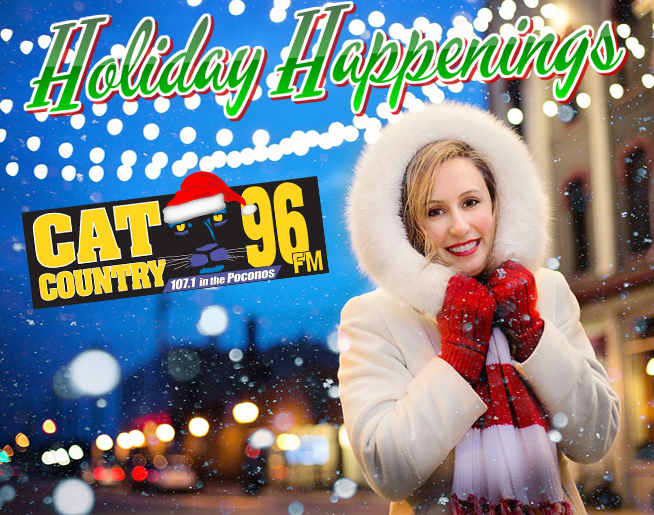 HOLIDAY ATTRACTIONS
Chriskindlmarktu00a0-u00a0(Nov.18-Dec.18)u00a0SteelStacks, 101 Founders Way, Bethlehem, PA 18015. Each Christmas season, towns, villages, and cities throughout Germany host festive outdoor markets known as Christkindlmarkts, uniting the community in a celebration of the holiday season.
Winter Light Spectacularu00a0-u00a0(Nov.11-Jan.1) Bundle up and enjoy the beauty of nature as you stroll through tree-lined paths lit up by over 1.2 million twinkling lights and themed animated displays at the Lehigh Valley Zoo.
Lights in the Parkwayu00a0- (Nov.25-Dec. 31 5:30pm-10pm) 1700 Martin Luther King Blvd., Allentown, PA 18103.u00a0 This incredible drive-through light display covers more than a mile of one of Allentown's most beautiful parks (Lehigh Parkway) and features lighted trees, light tunnels, and animated displays.
Lights in the Greenwalds – (Nov.12-Dec. 23 | 5pm-10pm) 2040 Greenwalds Ave., Allentown, PA 18104. See Thousands upon Thousands of Lights, Amazing Animations, Light Shows, and Hear Christmas Music all the way from Home Alone, to Trans-Siberian Orchestra and back to Traditional Christmas Music. Friday/Saturday/Sunday Nights throughout the season we will be offering Hot Chocolate, Popcorn, and many other things in our concession shed.
Koziar's Christmas Villageu00a0-u00a0(Nov.01-Jan.01)u00a0782 Christmas Village Rd., Bernville, PA 19506.u00a0 Celebrating 75 years of Season's Greetings, Koziar's Christmas Village has grown to a mammoth and extraordinary seasonal attraction drawing visitors from great distances as well as local families who have made Koziar's part of their Christmas tradition for three generations.
Knoebels "Joy Through The Grove" – (Nov. 25-Dec.31) Joy Through the Grove is a drive-through Christmas light experience. The light display begins near the Impulse roller coaster, travels down the parku2019s main boulevard, and throughout much of the campground.
Steel Stacks Ice Rink – (Nov. 22-Jan.1) A new tradition to Bethlehemu2019s holiday season with an authentic ice rink at the base of the blast furnaces on the SteelStacks campus will be open daily, including holidays.
Hersheypark Sweet Lights and Christmas Candylane – Drive through 2 miles of wooded trails, enjoy nearly 600 illuminated, animated displays and listen to a custom-made holiday radio station on your drive. Download the free iHeartRadio App, search for our station,u00a0Hershey Sweet Lightsu00ae, and enjoy the lights and music!u00a0Hershey Sweet Lights is located at 1183 Sandbeach Road, Hershey, PA 17033.
Christmas City Village – (Nov. 18-Dec.24) Experience Bethlehemu2019s Christmas City Village and Christmas Hut on Main. Visit charming, holiday-themed wooden huts that are filled with unique holiday gift ideas. This event is free and open to the public! Christmas Hut on Main is nestled in the beautiful Moravian Historic District. Stroll festively decorated Downtown and visit charming retail shops, gourmet restaurants, and historic Moravian museums.
Christmas in Color Drive Thru Animated Light Show – (Nov. 18-Jan.1) Experience Christmas like never before! Dorney Park's drive-thru animated Christmas Light Display (Christmas in Color) is a new magical experience. Drive through millions of lights perfectly synchronized to holiday music. Drive by giant candy canes, snowmen, arched pathways, and more.
Easton Winter Village – (Nov. 18-Dec.18) Shop & Ice Skate at the City of Easton's outdoor, family-friendly winter event, the Easton Winter Village every Friday from 4-8 p.m.; Saturday from 12-8 p.m.; and Sundays 12-6 p.m. Experience downtown Easton at this family-friendly holiday event. Over 20 vendor huts in and around Centre Square as you stroll around the Peace Candle. Sip hot cocoa, mulled wine, and tasty treats while you walk under the glow of the twinkling lights.
Lights at the Lake – (Nov. 18-Dec.23) Drive-thru Holiday Light show at Mauch Chunk Lake Park, Jim Thorpe. The driving path is approximately 1 mile with lights and displays featured throughout the entire length.
West End Festival of Lights – (Nov. 25-Dec.23) Animated lights display, horse and buggy rides, fire pits, and artisan vendors at the West End Fairgrounds in Gilbert, PA.u00a0
PEEPSFEST – (Dec.30-Dec.31) Ring in the New Year with a sweet celebration at PEEPSFESTu00ae from 3 u2013 6 p.m. on Fri., Dec. 30 or Sat., Dec. 31 at Steel Stacks in Bethlehem! The event will be held outside with family-friendly activities and fireworks following the annual PEEPSu00ae Chick Drop on both Friday and Saturday.